WIN Corporate Social Responsibility
Beirut, Lebanon — April 6, 2019 — WORLDWIDE INDEPENDENT NETWORK, an exclusive network of freight forwarders around the globe, is giving back to the community with a donation of Eleven Thousand American Dollars to SOS Village Lebanon. WIN (Worldwide Independent Network) is a Non-Profit Organization based in Switzerland since 2000. The association groups more than 80 freight forwarders on 5 continents offering complete freight and logistics services.
The Charity Program began in 2008 when WIN Past Charmian Sir Eligio Oggionni initiated our corporate social responsibility program by funding a school in Sao Pedro, Brazil. Since then WIN never stopped its initiative and other recent donations took place in 2016 to the South African Association ELEOS to help unfortunate children and orphans get education, clothes, safety and shelter to be able to experience human dignity and joy of living. In 2017, WIN charity program was dedicated to Chiang Mai Ban Pong School in Thailand. With the generous donation of WIN members, a new school building was constructed hosting a total of 102 Students in 10 class rooms (ranging from kindergarten until high school level) in addition to new dormitories for the boarding school. WIN continued same efforts in 2018 by aiding CILSA (Inclusion Center and Solidary of Argentina), a non-governmental organization with a welfare purpose established in Santa Fe, Argentina. The main purpose of CILSA is to promote full inclusion of people from marginalized sectors of society, such as socially vulnerable children, adolescents and handicapped persons.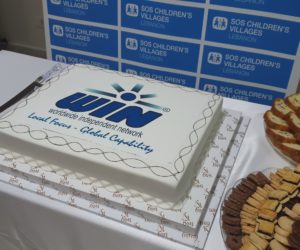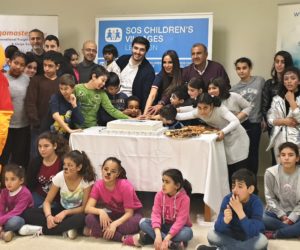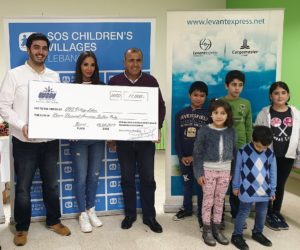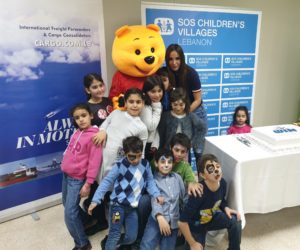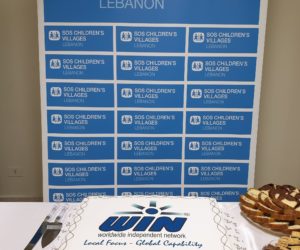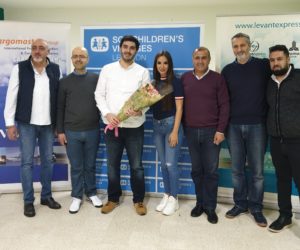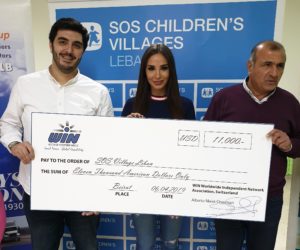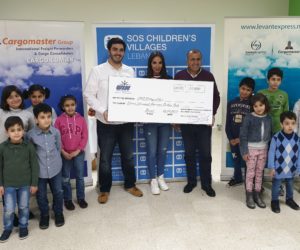 Beginning of 2019, it was decided to raise funds for SOS Village Lebanon. SOS Village is part of the Austrian International organization founded in 1949, they are part of the world's largest practitioner movement for supporting the right of the children who are deprived of parental care or at risk of losing it by providing them with family-based care and preventing child abandonment through Family Strengthening Program (FSP). These 2 programs complement each other to take care of vulnerable less fortunate children.
WIN raised Eleven Thousand American Dollars that were presented to SOS Village with the presence of Mr. Jacques Abouzeid, Vice Chairman of WIN and General Manager of Levant express Transport SAL; exclusive member of WIN in Lebanon and a company that prides itself by being one of the first transport companies in Lebanon since 1930. WIN organized an event on the 6th of April 2019 at SOS Village Bhersaf where they gathered forty-five children for two hours of entertainment. The crew from Hula Hoops Animation performed at the celebration playing with the kids, singing, dancing, face painting, etc.  Afterward a picture ceremony took place with the SOS Village National Director Mr. Amin Boustany and the Miss Lebanon First Runner-Up Ms. Mira Toufaily who herself is a proud child from SOS Village. The celebration continued with lunch provided by Snack el Fejaan and cutting the ceremonial cake. Towards the end of the event, members of the Levant Express Transport team were fortunate to visit and experience the hospitality of the SOS Village homes and families.
Mr. Jacques Abouzeid commented: "We were all very happy and emotional. The aim of WIN donations is the Children, because they are our future. We want to empower our kids by offering them a better future, give them a proper education, provide them the same opportunities as any other kid, contribute to the childhood they merit with the love, the food, and the security that any child deserves today around the world."
Mr. Amine Boustany, National Director of SOS Village Lebanon thanked WIN Association: "Your humanitarian initiative has certainly made a big difference because there is no fatality to misfortune. Thank you for what you gave to our children, with this donation you helped to ensure a safe and promising future."
WIN would like to thank Hula Hoops and Snack Al Fejaan for offering all entertainment and food free of charge. We look forward to continuing our corporate social responsibilities by partnering with other charity organizations around the world.
For more information on both organizations, kindly visit our websites listed below: